Corporate Training
"Always treat your employees exactly as you want them to treat your best customers." Stephen Covey
Covey was ahead of his time when he wrote that in 1989, but now it is clear that employees want MORE: to be engaged, valued, and respected. They desire a corporate culture that encourages them to keep growing and learning. No one wants to feel "stuck." In a world that is shifting and reshaping constantly, employees know they, too, must constantly up-skill or re-skill.
A custom program with FAU Corporate Training creates a transformational learning opportunity that address your team's specific needs. Group training designed specifically for you creates meaningful and lasting change from within. Investing in your most valuable resource - your people - is fundamental to your long-term success.
---
Create your Program
To start designing your program, you may start with one of our 60+ existing Professional Development Programs that can be customized to address your specific needs. Or, we can create a fully unique experience just for your team. If you don't see what you are looking for here, please email or call Paige Garrido (contact information below) to discuss your team's unique needs.
Leadership Development
Create a customized program that addresses your organization's most pressing needs from our existing programs or mix and match from our suite of Management and Leadership modules.
---
Leadership Boot Camp
---
Women in Executive Leadership
---
Build your Unique Program
---
Skill & Capacity Building
Upskilling your team is essential to long term success. These certificate courses are short-term programs that can help your team members fine tune or gain new skills in chosen areas.
---
Project Management
---
Six Sigma
---
Finance
---
Human Resource Management
---
Operations/Supply Chain
---
Marketing
---
Executive Degree Programs - All MBA programs listed here are available to client as an on-site cohort program
---
Organizational Development
From strategic planning, to building company culture, or ensuring that your legacy lasts, our programs will support your organization's goals.
---
Executive Coaching
The best leaders in the world continue to be coached throughout their careers to refine their skills and talents and help them focus on what is important. Our coaches build a confidential, non-judgmental, action-oriented, goal-focused relationship between you and your coach that exists solely for the purpose of promoting your success and fulfillment in all areas of your life.
---
Succession Management
Succession Management is a dynamic, ongoing process of systematically identifying, assessing and developing 'talent' for future leadership and critical individual roles to ensure continuity and effective company performance for the future. Our consultants meet one on one with the company leader to design a true succession plan.
---
Strategic Planning
The Strategic Planning Process provides a format for developing specific strategies, converting those strategies into a business planning process, and establishing measurable and attainable organizational goals. It is a process that involves not only focusing on where an organization wants and needs to go, but also how it is going to get there.
---
Contact Us
Paige Garrido, MBA '02
Associate Director, Corporate Training & Talent Development
phone: (561) 297-4819
cell: (954) 415-1268
email: pgarrido@fau.edu
The Schmidt Family Complex for Academic and Athletic Excellence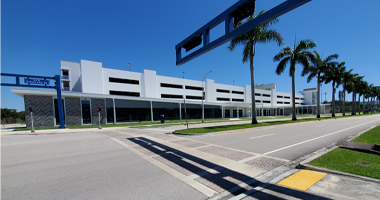 Opened in 2020, the Schmidt Family Complex for Academic and Athletic Excellence features state-of-the-art executive classrooms, media labs, workshop rooms and a multi-tiered amphitheater.


All Executive Education Degree and Professional Development programs are also available as a Corporate and Customized program designed to fit your organization's needs.