CFP® – Estate Planning – Accreditation

The CERTIFIED FINANCIAL PLANNER Professional Certificate Program at Florida Atlantic University is registered with the Certified Financial Planner Board of Standards Inc. (CFP Board).


Program Details
Format: Tuesdays | On Campus or Live Virtual
Dates: May 9 - July 18, 2023
Time: 7:00pm - 10:00pm
Hours: 40 Hours/4.0 CEUs
Sessions: 10
Fee: $750
Location: Boca Raton Campus or Live Virtual
ABOUT THE CERTIFIED FINANCIAL PLANNER BOARD OF STANDARDS INC.: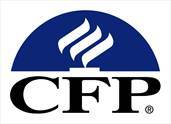 Certified Financial Planner Board of Standards, Inc. (CFP Board) is a non-profit organization that acts in the public interest by fostering professional standards. The CFP Board establishes standards in personal financial planning through setting and enforcing education, examination, experience, ethics and other requirements to earn and retain the CFP ® certification. The CFP Board awards individuals who successfully complete the initial education curriculum, examination, and ongoing certification requirements the right to use certification marks CERTIFIED FINANCIAL PLANNER, CFP® and The mission of Certified Financial Planner Board of Standards, Inc. (CFP Board) is to benefit the public by granting the CFP® certification and upholding it as the recognized standard of excellence for personal financial planning.
For more information regarding the CFP®Certification Examination, please visit www.CFP.net.
Contact Us
Robert Munoz
Program Coordinator
phone: (561) 297-2571
email: rmunoz@fau.edu
map: Bldg. 103, SF 129