Human Resource Management
All programs are available for corporate on-site training.
Human Resource Professionals account for almost 1 million jobs in the current economy. Because managing resources is critical to an organization's success, knowledgeable and skilled Human Resource professionals are always in high demand. And, today's Human Resource generalists and specialists are tasked not only with talent management but are increasingly relied upon by senior executives to contribute to strategic planning. Human Resource professionals have moved from behind-the-scenes to leading the company in acquiring top talent and changing policies.
The Certificate in Human Resource Management program is designed for Human Resource professionals and those who want to become Human Resource professionals to develop the knowledge, methods, and skills necessary to meet the challenges of today's changing workplace.
The Certificate in HR: Compensation and Benefits program will prepare Human Resource professionals to design, plan, direct and coordinate the compensation activities for an organization. The principles and practices covered will guide HR professionals how to develop, implement and administer the organization's rewards and benefit policies.
Florida Atlantic University's PHR® /SPHR®/ Exam Preparation program will prepare eligible HR Professionals for managing the ongoing challenges of today's professional environment by providing preparation and training for both the Professional in Human Resources (PHR®/) and Senior Professional in Human Resources (SPHR ®/) examinations.
An intensive Management & Leadership Development Certificate Program, designed for Supervisors, Managers and Senior Leaders, Florida Atlantic University's Leadership Boot Camp: The Art and Science of Effective Leadership will benefit anyone with managerial responsibility and who requires strong decision-making skills and the ability to lead and motivate others.
Contact Us
Sarah Wilson
Program Manager
phone: (561) 297-2366
email: sarahwilson@fau.edu
map: Bldg. 103, SF 129
Accreditation
Florida Atlantic University is accredited by the Human Resource Certification Institute (HRCI) as an Approved Provider.

Specific Human Resource Management programs are eligible for re-certification credits by the HR Certification Institute.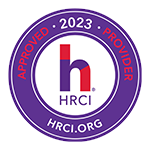 Success Story
Human Resource Management
Compensation and Benefits


I have taken two classes : The Certificate in Human Resource Management and Compensations and Benefits. These are Executive Level Programs and, as such, the professors have been excellent , Life experiences examples and news discussions in class have been very enriching. I have been involved in the HR area indirectly, but now feel confident to offer my company the professional feedback as required. Going for the SHRM Certification classes next spring!
-- Nancy Guerrero
Accounting Analyst
Telefonica International Wholesale Services USA, Inc