HR: Compensation and Benefits
Employee compensation can be the deciding factor in whether or not a candidate accepts a job position. It can also be the deciding factor in whether a company can afford to hire additional employees. Every organization, large and small must determine the pay structure for its employees; compensation and benefits administrators are the key specialists in charge of managing the impact of compensation and benefits packages on an organization's bottom line, while ensuring fair and equitable pay rates for employees.
Developed by leading experts in the Human Resource Management field and approved for recertification credits by the HR Certification Institute (HRCI®), the HR: Compensation & Benefits Certificate program prepares you to be an effective and integral member of an organization's compensation team.
Program Details
Format: Thursdays | Live Virtual

Dates: Sept. 7 - Nov. 16, 2023
Time: 6:30pm - 9:30pm EST
Hours: 33 Hours / 3.3 CEUs
Sessions: 11
Location: Live Virtual
Fee: $1,140**
**EARLY BIRD: Register and pay by July 16, 2023 and pay only $1026!
Program Objectives
Establishing and maintaining an organization's pay structure and benefits packages are the principal responsibilities of a compensation and benefits manager. This course will deliver the specialized knowledge and skills in the field which you need to develop compensation and benefits programs effectively,
In this program, participants will learn about:
The Pay Model
Compensation: Definition, Please?
Relationship between Shareholder Return & Change in CEO Pay
A Pay Model
Caveat Emptor
The Totality of Decision
Three Compensation Strategies
Tailor the Compensation to the Business Strategy
Key Steps in Formulating a Total Compensation Strategy
Source of Competitive Advantage: Three Tests
"Best Practices" versus "Best Fit"?
Defining Internal Alignment
Compensation Strategy: Internal Alignment
Differentials
Pay Structures
Structures Vary among Organizations
What Shapes Internal Structures?
Illustration of an Internal Labor Market
Strategic Choices in Designing Internal Structures
Guidance from the Evidence
Consequences of Structure
Job Analysis
Ways to Create Internal Structure
What is Job Analysis and Job Analysis Procedures
Determining the Internal Job Structure
Communication: Task-Based Data
3M's Structured Interview Questionnaire
How Can Information Be Collected?
Judging Job Analysis
Work Sample Review and Developmental Process
Evaluating Work - Job Evaluation
Many Ways to Create Internal Structure
Comparison of Job Evaluation Methods
Job Evaluation Form
Rest of Steps
Who Should Be Involved?
Balancing Chaos and Control
Person-Based Structures
Person-Based Structures: Skill Plans
"How-to": Skill Analysis
Determining the Internal Competency-Based Structure
Behavioral Anchors for Global Perspective Competency
Administering the Plan
Bias in Internal Structures
Defining Competitiveness
What is External Competitiveness?
Pay Level and Pay Mix: Two Objectives
What Shapes External Competitiveness?
Labor Market Factors
Product Market Factors and Ability to Pay
Competitive Pay Policy Alternatives
Pay-Mix Policy Alternatives
Designing Pay Levels, Mix, and Pay Structures
Determining Externally Competitive Pay Levels and Structures
The Purpose of a Survey and Competitive Intelligence
Select Relevant Market Competitors
Design the Survey
Interpret Survey Results and Construct a Market Lines
From Policy to Practice: Grades and Ranges
Balancing Internal and External Pressures: Adjusting the Pay Structure - Reconciling Differences
Market Pricing
Pay for Performance: The Evidence
What Behaviors Do Employers Care About?
What Motivates Employees?
Components of a Total Reward System
Does Compensation Motivate Behavior?
Examples of Group Incentive Plans
Designing a Pay-for-Performance Plan
Pay-for-Performance Plans
Overview: Pay-for-Performance Plans
Specific Pay-for-Performance Plans: Short Term
A Sampling of Performance Measures
Types of Variable Pay Plans: Advantages and Disadvantages
Types of Gain Sharing Formulas
Performance Appraisals
The Role of Performance Appraisals in Compensation Decisions
Common Errors and Factors Related to Inaccurate Performance Appraisal
Strategies for Better Understanding and Measuring Job Performance
Select the Right Raters
The Rating Process
Putting It All Together: The Performance Evaluation Process
Equal Employment Opportunity and Performance Evaluation
Tying Pay to Subjectively Appraised Performance
Designing Merit Guidelines
The Benefits Determination Process
Changes in Benefits Costs Over Time
Why the Growth in Employee Benefits?
Value and Ranking of Employee Benefits
Key Issues in Benefit Planning, Design, and Administration
Factors Influencing Choice of Benefit Packages
Questionnaire Format for Benefit Surveys
Employee Benefit Communication
International Pay Systems
Managing Variations
The Social Contract
Culture and Managing International Pay
Strategic Market Mind-Set
Expatriate Pay
Borderless World ? Borderless Pay?
Government and Legal Issues in Compensation
Government as Part of the Employment Relationship
Fair Labor Standards Act of 1938
Pay Discrimination: What Is It?
Title VII of the Civil Rights Act of 1964
Sources of the Earnings Gaps
Management: Making It Work
Managing Labor Costs
Control Salary Level: Top Down
Ethics: Managing or Manipulating?
Embedded Controls
Why Communicate Pay Information?
General
Journal Article(s) review and discussion
Instructional Method and Format
Instructor-led, interactive seminar style program
Instructors are practicing Human Resource professionals with extensive experience in the field
Course principles are delivered and reinforced using lectures, small group case studies, discussions, reading assignments, carefully selected and up-to-date journal articles and homework
Contact Us
Sarah Wilson
Program Manager
phone: (561) 297-2366
email: sarahwilson@fau.edu
map: Bldg. 103, SF 129
Accreditation
PHR®/SPHR® Credits!
This program has been approved through the HR Certification Institute (HRCI®). For more information about certification or recertification, please visit the HR Certification Institute website at www.hrci.org.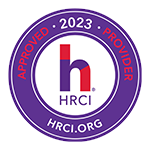 The use of this official seal confirms that this Activity has met HR Certification Institute's® (HRCI®) criteria for recertification credit pre-approval.