The Executive Certificate in Project Management (Evening)
Project management has become the business world's most sought–after skill set. As business environments become more complex, organizations are challenged with addressing a seemingly unlimited supply of new projects with fewer resources. Increasingly, a greater reliance is placed on project managers to help organizations ensure approved projects are not only delivered on time and within budget but more importantly - project results must accomplish strategic objectives. Despite this growing need for project managers, keen competition is expected for project management positions.
Candidates who are certified, or have specialized training and industry experience will realize the greatest opportunities to advance and succeed. Small and large organizations alike will benefit from employees who have the critical knowledge needed to lead successful projects! According to the Bureau of Labor Statistics, as project management becomes more widely-recognized, employers across industries are seeking employees with project management skills. Further, those with project management skills are proven to be of greater value to organizations as they coordinate and implement projects which benefit the organization as a whole.
Florida Atlantic University offers a wide selection of in-class and distance learning project management training programs, ideal for learning comprehensive project management methodology, preparing for the CAPM®, PMP® , PMI-SP®, PMI-RMP®, PMI-PBA®, and PMI-ACP® certification exams, or maintaining your certifications with specialized courses for project management professionals who would like advanced training or need to meet continuing certification requirements.
Program Details
Format: Mondays & Wednesdays | Live Virtual
Dates: Jan. 22 - Apr. 21, 2024
Time: 6:30pm - 10:00pm
Hours: 84-105 Hours-PDUs/ 8.4-10.5 CEUs
Sessions: 24 - 28
Location: Live Virtual
Fee: $4,995**
**EARLY BIRD: Register and pay by Dec. 31, 2023 and pay only $4495.50
Program Objectives
Why participate in this course?
Florida Atlantic University's Executive Certificate in Project Management uses a practical and academic approach to cover the fundamentals of the internationally-accepted A Guide to the Project Management Body of Knowledge (PMBOK® Guide). The curriculum covers the Project Management domains, exploring each one and their interdependencies in the project lifecycle in depth. All participants will engage in group exercises to apply the tools learned in the classroom and are expected to complete a final project which will demonstrate practical application and mastery of project management methodology.
Participants who enroll in the Executive Certificate in Project Management also have the option to attend an intensive 21 hour preparatory course for the Project Management Professional (PMP)® certification exam.
An Executive Certificate in Project Management will be awarded upon completion of the program demonstrating the knowledge, comprehension, and understanding of the material. (The preparatory course is optional, and is intended for students who wish to pursue (PMP)® certification in addition to the Executive Certificate.)
Participants who take the course will:
Understand how projects are selected and initiated
Build an integrated Project Management Plan and other key planning and controlling documents
Learn how to apply good project management skills in many different types of projects through lecture, discussions, and practice
Learn skills to develop relationships and better communicate with project stakeholders
Learn methods to keep the project on track, successfully complete the project, and transition the results to the appropriate stakeholders
Build relationships and networking opportunities with other participants through discussion and group activities
Course Topics
Using presentations, lessons, and group assignments, this course will walk through the entire life cycle of a project, using A Guide to the Project Management Body of Knowledge (PMBOK® Guide) as a basis.
Key course topics include:
Stakeholder Engagement
Scope Planning and Delivery
Resources and Procurement
Scheduling
Budgeting
Communications
Risk
Team and Leadership
Quality
Integration and Closing
Instructional Method and Format
Taught by a PMP®-credentialed instructor
Highly interactive, in-class, instructor-led program
Includes lectures, small group case studies and discussions, Culminates in a final project which demonstrates participants' mastery of the material and methodology and allows each student to develop a real or simulated project from concept to closing, emulating the project management life cycle
Florida Atlantic University is a Registered Education Provider (R.E.P.)®, and an Authorized Training Provider (A.T.P.)®, approved by the Project Management Institute (PMI)®.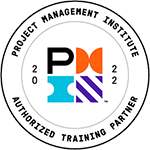 PMP®, CAPM®, PMI-SP®, PMI-RMP®, PMI-PBA®, and PMI-ACP® are registered marks of the Project Management Institute, Inc.
Contact Us
professionaldevelopment@fau.edu