Professional MBA Boca Raton Testimonials
Brendan McCauley
"Going to FAU was one of the best investments I've ever made in myself. I learned how to become laser focused on challenges while working with a group of like-minded individuals. By no means was the program easy, but it forced me grow as a person and set a new standard for how I now function on a daily basis. The staff was incredibly helpful to ensure the program ran smoothly while taking the guess work out of creating a schedule, finding classes, or paying tuition. I would recommend the Professional MBA program to anyone who works a 9-5 and is willing to put the time and effort into building not only their career, but who they are as a person. Once you get past all the late night papers, weekend study groups, and morning phone calls, the feeling of accomplishment can be overwhelming. As your degree sitting across your desk, you cannot but have a smile on your face and a sense of pride in your heart! Just do it, you won't regret it!"
Brendan McCauley '15
Inventory Supervisor at Tenet Healthcare
Ali Alghannam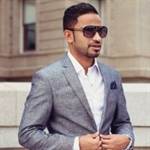 "As a current FAU student enrolled in the PMBA Professional Master of Business Administration), I have aggressive short- and long-term professional and personal goals. I feel the learning experience at FAU will enable me to achieve them. I am highly motivated, a visionary and a vibrant entrepreneur who desires to make changes in the world, while attaining sustainable prosperity for myself and others.
As a Saudi Arabian, I believe the experience at FAU has been outstanding and the immersing of cultures has provided me with a broader global perspective. The professors at FAU are well equipped to offer a tremendous perspective on global culture and knowledge. The College of Business has enabled me to think differently and "outside the box". The non-traditional classrooms permit me see how the business world is thinking and I have enjoyed the enormous networking opportunities and meeting with an array of successful people in South Florida. The flexibility to choose between the PMBA and EMBA classes and schedule has been very valuable.
I am passionate, dedicated to my work and I love what I do. However, I truly recognize the importance and I am committed to benefiting others as well through that passion."
Ali Alghannam '16
Founder & President, Prestige Global Consultants Inc.