FAU's College of Business Receives Grant From JPMorgan Chase
By Kristine Gobbo | 03/30/2023
Tags:
Deans-Office | Finance | Our-College | Press-Releases
Categories:
Announcements | Faculty/Staff | Initiatives | Students
---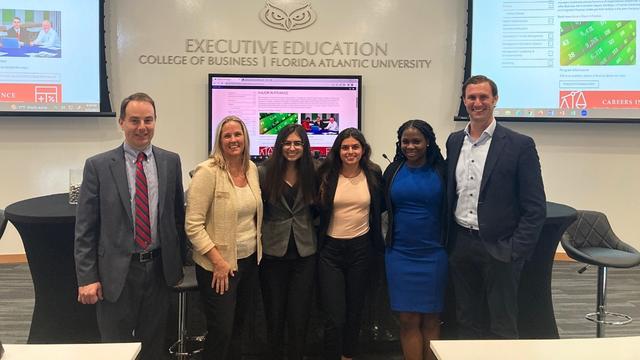 Florida Atlantic University's College of Business received a sponsorship from JPMorgan Chase's Women on the Move (WOTM) to create programs and opportunities for finance majors that are expected to attract a diverse group of students and prepare students from many backgrounds to become successful professionals in the finance industry. JPMorgan Chase will serve as the inaugural Financial Services Sponsor of the Women in Finance program for the College of Business. The program is open to all students and focuses on educating and training finance professionals.
"JPMorgan Chase's Women on the Move program is excited to work with Florida Atlantic University to help support college students pursuing careers in finance. Two of our key priorities are improving women's financial health and empowering their career growth," said Sam Saperstein, managing director and global head of JPMorgan Chase's Women on the Move. "We look forward to connecting FAU students with financial health education and equipping them with the resources and tools to bolster their confidence about their financial futures."
With this support, FAU also will establish a student recruitment program for the finance major. In addition, FAU will begin development of a student-managed investment program that gives them real-world experience managing an investment portfolio. The gift will enable the college to begin teaching investment classes and develop a minor for finance majors focused on managed investments.
"Florida Atlantic is pleased to work with JPMorgan Chase to strengthen our finance program overall and build greater diversity among our finance majors," said Daniel M. Gropper, Ph.D., dean of the College of Business. "FAU is a natural fit for the Women in Finance program as our student body is among the most diverse in the country, and women comprise almost half of our students in the College of Business."
Through the program, FAU will establish several recruitment tools to attract a diverse group of students – including women – into the finance program. Those tools include a student organization for finance majors; an extracurricular speaker series focused on career advancement issues; internships; and guest speakers in the program who work in the finance industry.
The first part of the 3-part speaker series "Women in Finance" event took place on March 23rd, 2023.
"I thought the event was a great demonstration of the different paths women can take to get into the finance industry. Listening to a senior level leader was inspiring as was showcasing a woman from Barbados who did not have a finance background initially.

Hearing from someone who worked her way up and sought opportunities to better herself and seek the development she needed to succeed resonated with me. Like me, she did not have a background in finance, so to hear how she was able to use her unique voice and get a position with JPMorgan Chase inspired me as I am pursuing my master's degree in finance." - Cierra Winston, MSF
Under the student-managed investment program, FAU will recruit experienced financial professionals to mentor students interested in careers in managing investments. The fund, once established, will place FAU's finance major among the exceptional finance programs nationwide that offer students the opportunity to manage and administer an investment portfolio. Rather than a simulation, the program would be a real-life investment management experience using real money. At colleges with student-managed investment funds across the nation, the funds vary from several hundred thousand dollars to millions of dollars. The College of Business will continue to develop opportunities to build this fund.
Women on the Move is JPMorgan Chase's commitment to provide women with opportunities to succeed in their professional and personal lives. The initiative focuses on fueling women's ambitions and advancing financial equity by expanding women-run businesses, improving women's financial health, advancing women's career growth and supporting women and girls in communities globally. For more information, visit JPMorgan Chase's Women on the Move website.
-FAU-